Prof Lim (front row, fifth from left) with all the guests, speakers and participants
UTAR Centre for Cancer Research (CCR) organised the Genitourinary Cancer Awareness Seminar on 18 October 2018 at Sungai Long Campus.
At the seminar, CCR Chairperson-cum-Postgraduate Programmes Head Prof Dr Lim Yang Mooi gave opening remarks on behalf of Faculty of Medicine and Health Sciences (FMHS) Dean Emeritus Prof Dr Cheong Soon Keng. "Cancer is one of the leading causes of death globally. In this year alone, the estimation of cancer death is about 10 million in number and this number keeps on increasing," she said, adding that approximately 70 percent of deaths occurred in low and middle-income countries. Therefore, the seminar was held to tackle the problem by educating, promoting and understanding the importance of healthy lifestyle.
Prof Lim also highlighted the importance of preventing cancer and encouraged the participants to get screening tests regularly. She hoped that the participants will benefit greatly from the seminar. She also believes that cancer is avoidable, preventable, treatable and curable. "We should have the thought that we can fight cancer as long as we have the knowledge and understanding of carcinogenesis," she said.
On the other hand, Organising Chairperson Prof Dr Swaminathan Manickam expressed his gratitude to all the participants for their support. In his remarks, he explained that the purpose of having such seminar was to inform, educate, raise awareness, and inspire action for the public to reduce cancer.
The seminar saw a series of talks delivered by invited speakers, namely Consultant Urologist Dato' Dr Selvalingam Sothilingam from Pantai Hospital Kuala Lumpur, Medical Director Dr Murallitharan M. from National Cancer Society of Malaysia (NCSM), FMHS Clinical Assoc Prof Dr Thaw Zin, senior lecturer Dr Mohammed Abdulrazzaq Jabbar, Department of Physiotherapy Head Nizar Abdul Majeed Kutty and Senior Nutritionist Kenneth Low from NCSM.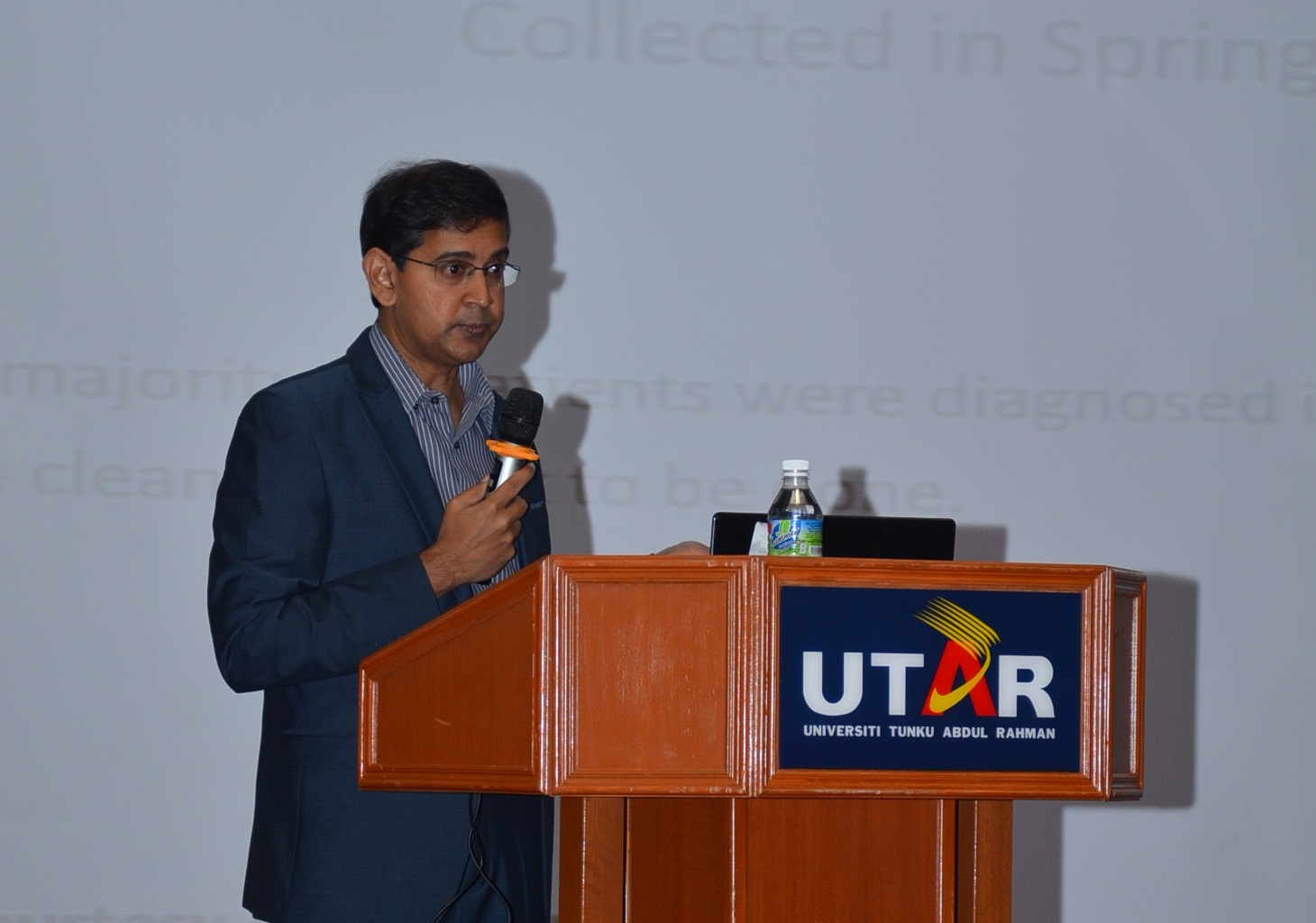 Dato' Dr Selvalingam highlighting the importance of early diagnosis
The first talk was presented by Dato' Dr Selvalingam, where he provided an overview of Genitourinary Cancer, covering the different types of cancers such as renal cancer, bladder cancer, prostate cancer, penile cancer and testicular cancer. He encouraged the participants to obtain an early diagnosis in order to detect the disease at an earlier stage as well as to increase the chances for successful treatment. "All Genitourinary Cancers are potentially curable by surgery. By diagnosing cancer earlier, the survival chance could be higher. Treatment of cancers at later stage can also be very costly. Therefore, awareness among the public and health care workers are important for early referral," he said.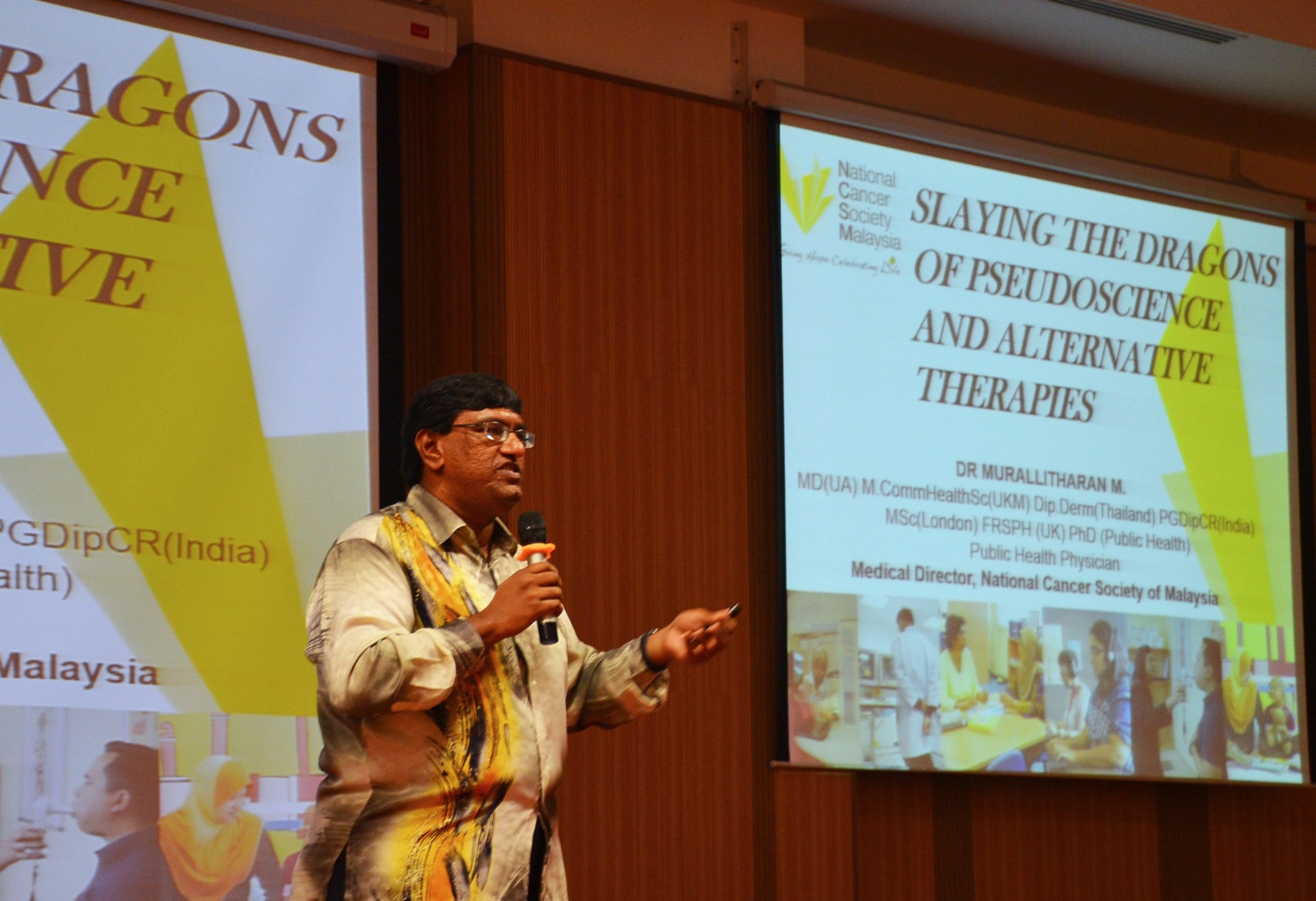 Dr Murallitharan conducting a quiz to tackle everyday stereotypes and misunderstanding of cancer

Another talk titled "Dealing with Cancer Pseudoscience" was presented by Dr Murallitharan. In his talk, he said, "When people are diagnosed with cancer, 30 percent goes missing; they stop or some don't even start their chemotherapy, while others don't show up for the surgery. Then they come back when the cancer has reached stage four, which is very late." He raised the concern on the influence of pseudoscience and alternative medications that are not proven effective. According to him, the growth of Internet sources is making some of the public to seek alternative methods that are not clinically proven, risking their lives even more.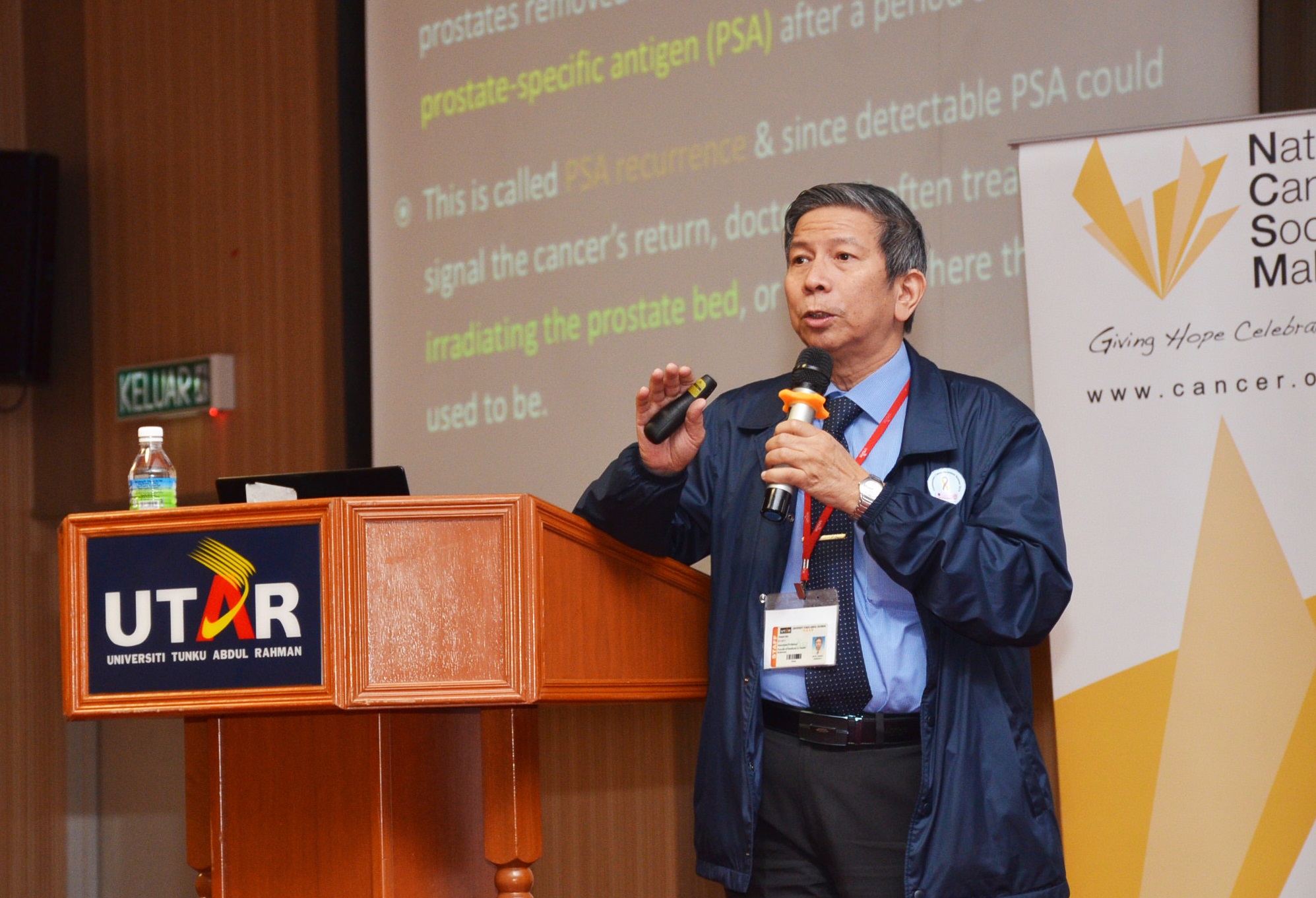 Dr Thaw encouraging participants to have a healthy lifestyle to prevent prostate cancer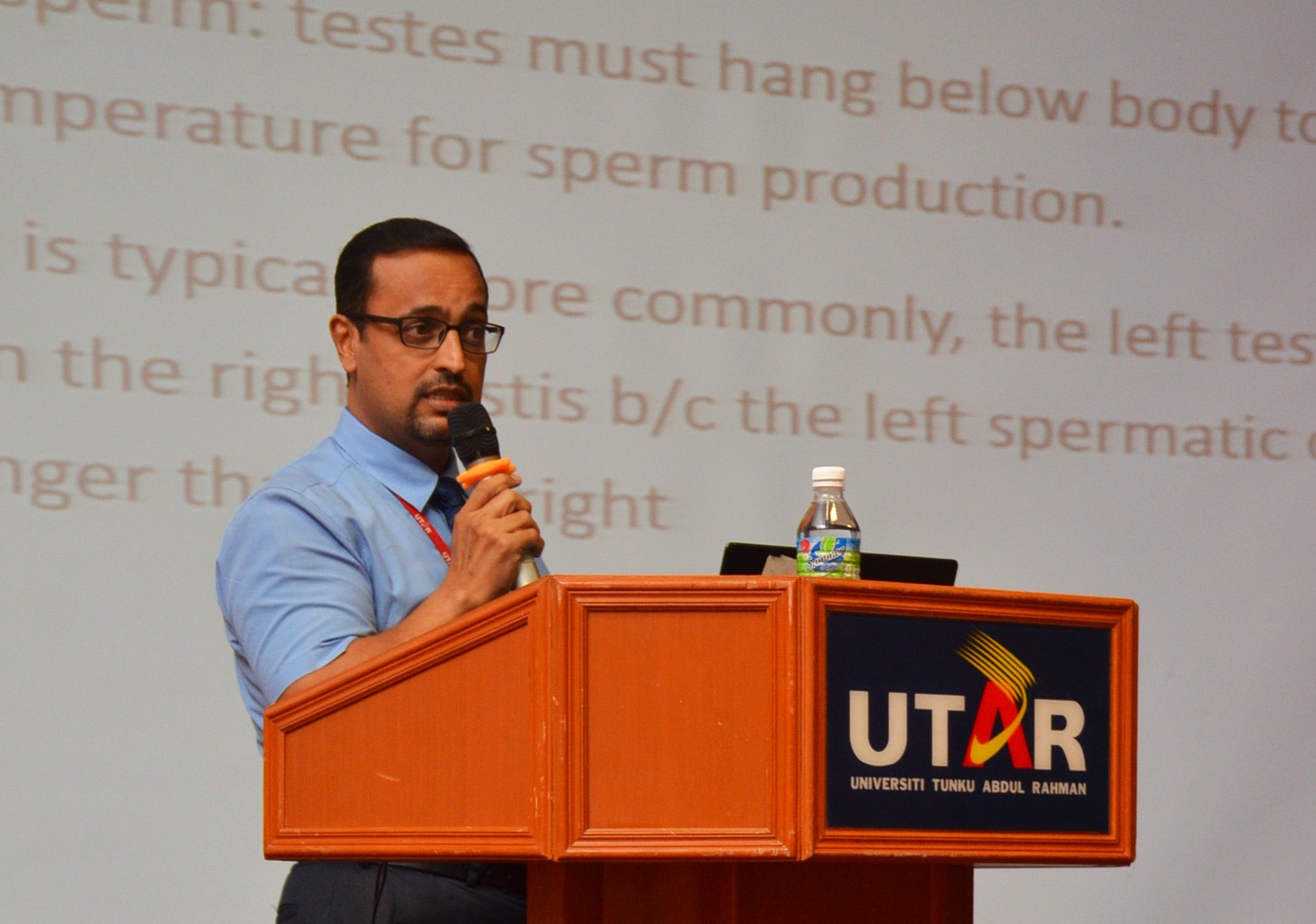 Dr Mohammed delivering his talk on testicular tumour awareness

In Dr Thaw's talk, he said that prostate cancer has no proven preventable methods. However, people can take steps that will be beneficial to the prostate, including a healthy diet, quality sleep, intermittent fasting and healthy sexual life. He also mentioned that alternative treatments are not proven to cure prostate cancer, but it may help to boost the morale and psychology of the patient. On the other hand, Dr Mohammed delivered his talk on testicular tumour awareness. According to him, testicular cancer is common among 15 to 35 years old, and hormonal cancer is more common in younger male as it is the period where the hormone activity is higher compared to older age. He highlighted that one of the most important prevention methods is to do a regular or monthly self-examination for any lump or pain in the area. Aside from that, men should also avoid tight clothing, avoid smoking, keep a good hygiene and a healthy diet.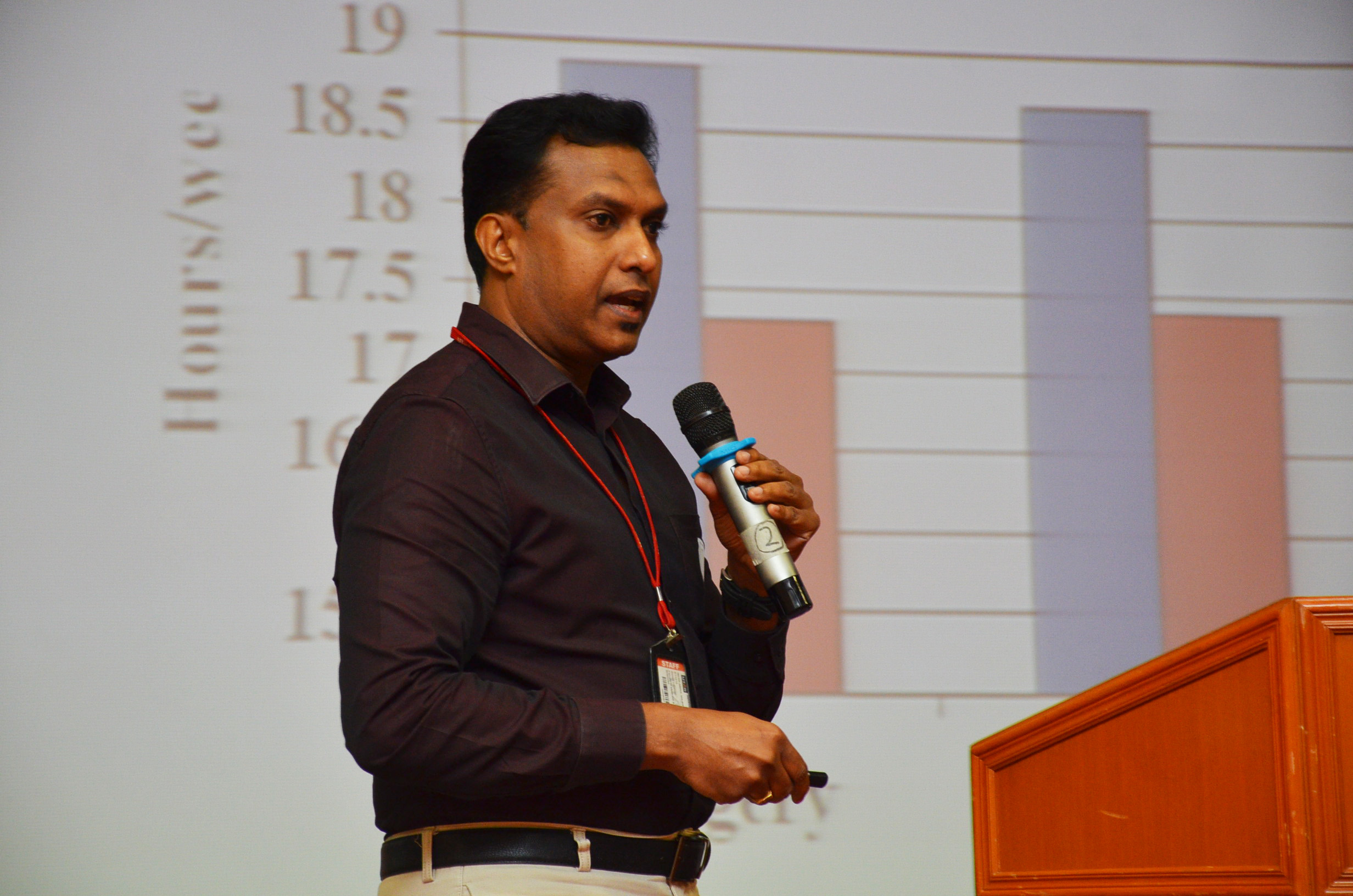 Nizar explaining the importance of regular exercise and physical activity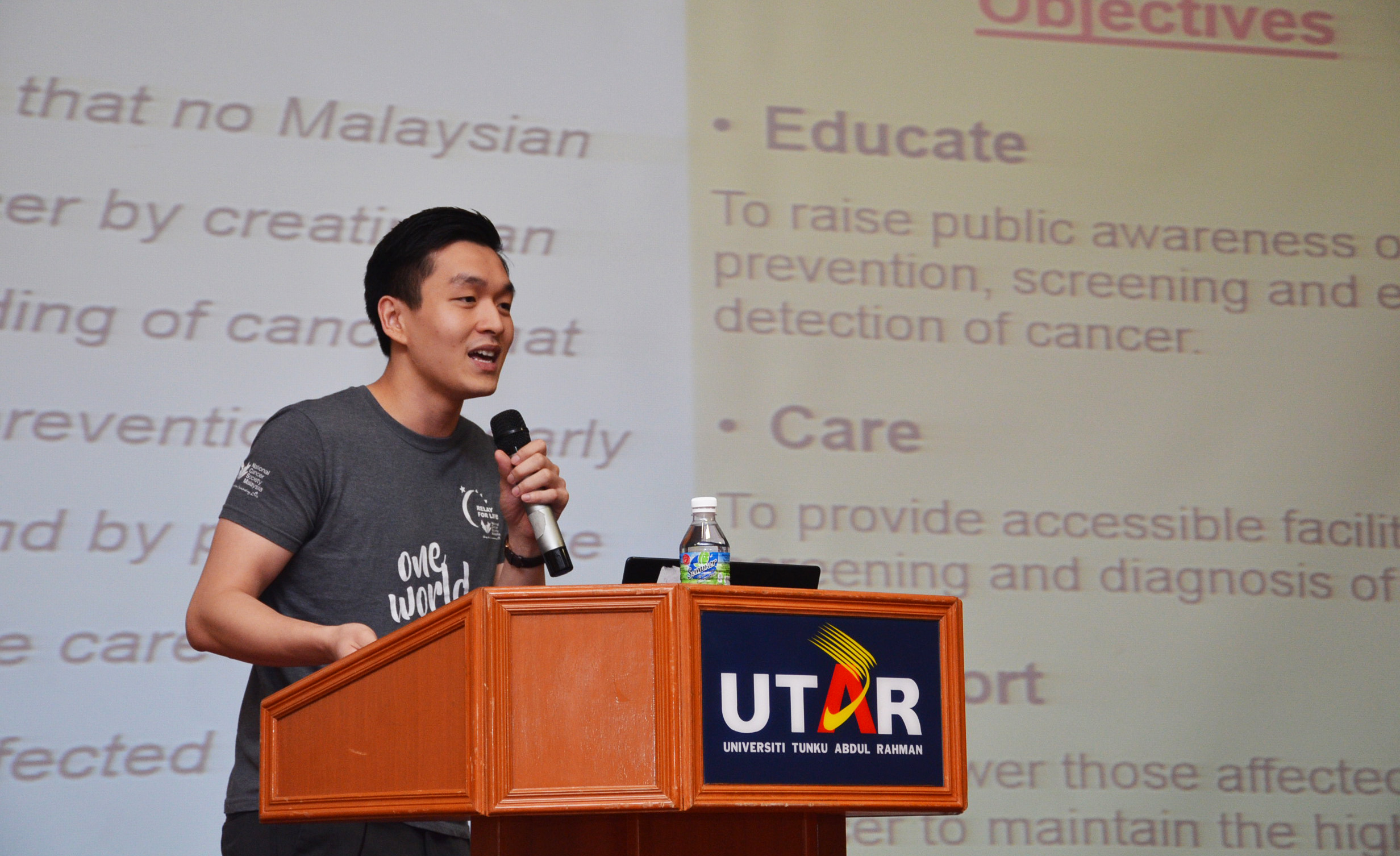 Kenneth Low reminding the audience that cancer is no longer a mystery or something that should be ashamed of
Nizar delivered his talk with an emphasis on the benefits of exercise and oncology rehabilitation; while Kenneth Low explained the range of services to the public. The seminar also saw Wong Kuan Sing, a prostate cancer fighter, sharing his experience of living with prostate cancer. "When I was first diagnosed with cancer, I was perfectly healthy. I did annual medical screening and in March 2010, they noticed my prostate enlarged," he said. He was told that he had less than three years to live but now he is still actively fighting his cancer for eight years, surpassing the expectation. He shared with the participants about how his life has been changed by the cancer and how he fights against it.
Wong sharing his personal journey of fighting the disease
With the aim of increasing Malaysians' knowledge about cancer and minimising cancer incidence as well as mortality, NCSM has offered Cancer Information Service (CIS), a national and multilingual helpline service that provides clear and credible information about cancer to cancer patients, their family and friends, the general public as well as healthcare professionals. To view more information, click https://www.cancer.org.my/about/what-we-do/support/cancer-information-service/.