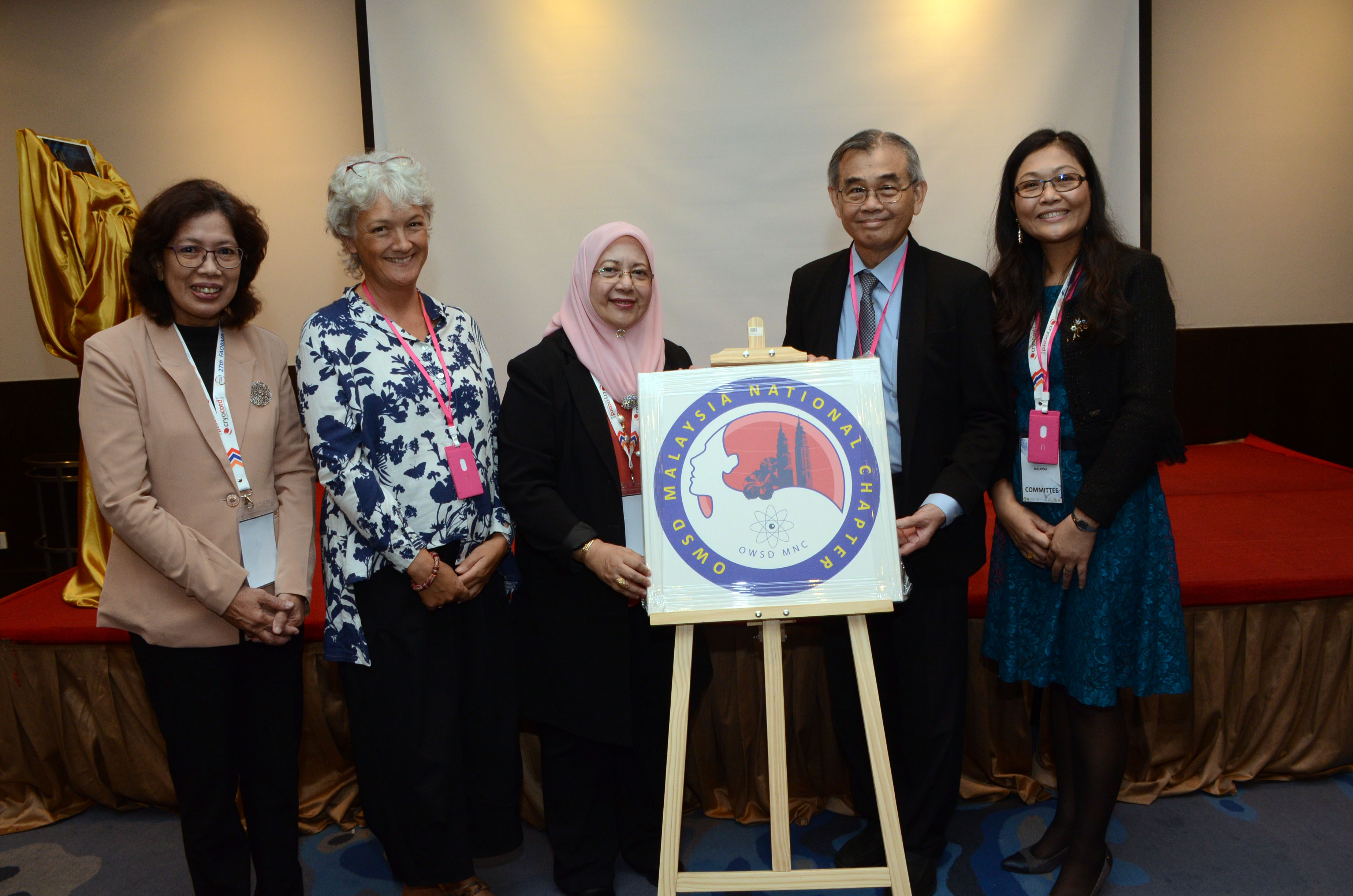 From left: Prof Rofina, Dr Tonya, Prof Datuk Asma, Prof Cheong and Prof Lim at the launching ceremony
The Organization for Women in Science for the Developing World (OWSD) Malaysia National Chapter (MNC) was relaunched at Berjaya Times Square Hotel, Kuala Lumpur on 21 August 2019. The launch was held after the 8th year of establishment of the OWSD NMC in facilitating the advancement of women in science and technology in Malaysia since its establishment on 11 August 2011.
The event also witnessed the launching of the new logo for the women empowering organisation, which will see OWSD NMC working closely with OWSD International in the future to enhance women's capabilities and contributions particularly in the field of science in developing nations.
Present during the ceremony were President of Academy of Sciences Malaysia Prof Datuk Dr Asma Ismail, OWSD International Representative Dr Tonya Blowers, OWSD Malaysia National Chapter Chairperson Prof Dr Lim Yang Mooi, Faculty of Medicine and Health Sciences Dean Emeritus Prof Dr Cheong Soon Kheng, Universiti Malaya Prof Dr Rofina Yasmin binti Othman, international and local prestigious speakers and participants.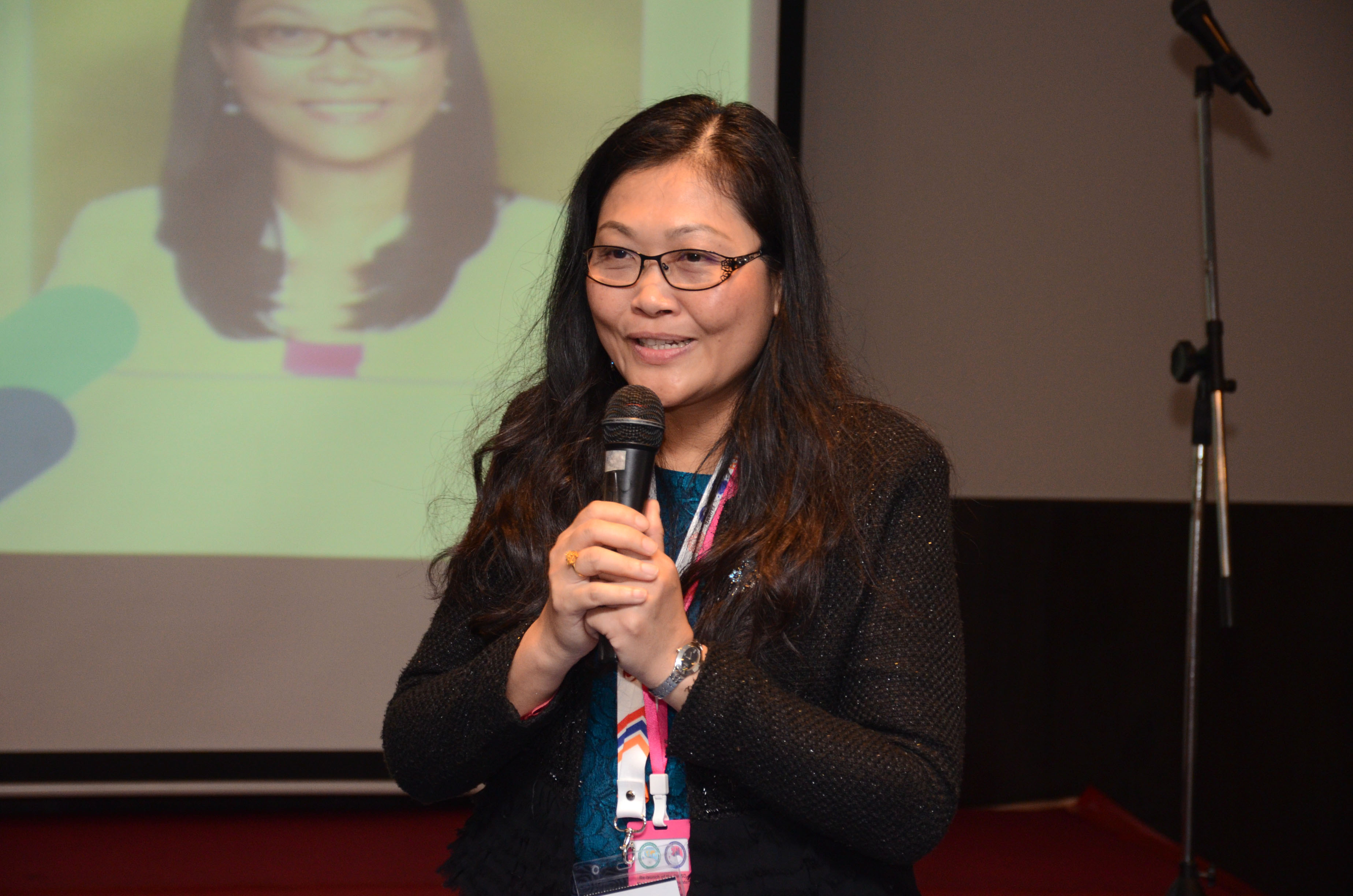 Prof Lim welcoming the participants
Prof Lim said, "I would like to take this opportunity to express my sincere thanks to everyone for being with us today. This is an exciting moment because we have worked very hard to sustain this organisation and we managed to make it a success with great teamwork and support from the organising committee. The OWSD Malaysian National Chapter aims to facilitate changes in the socio-economic structure, paving the way for women to excel and thrive in Science and Technology."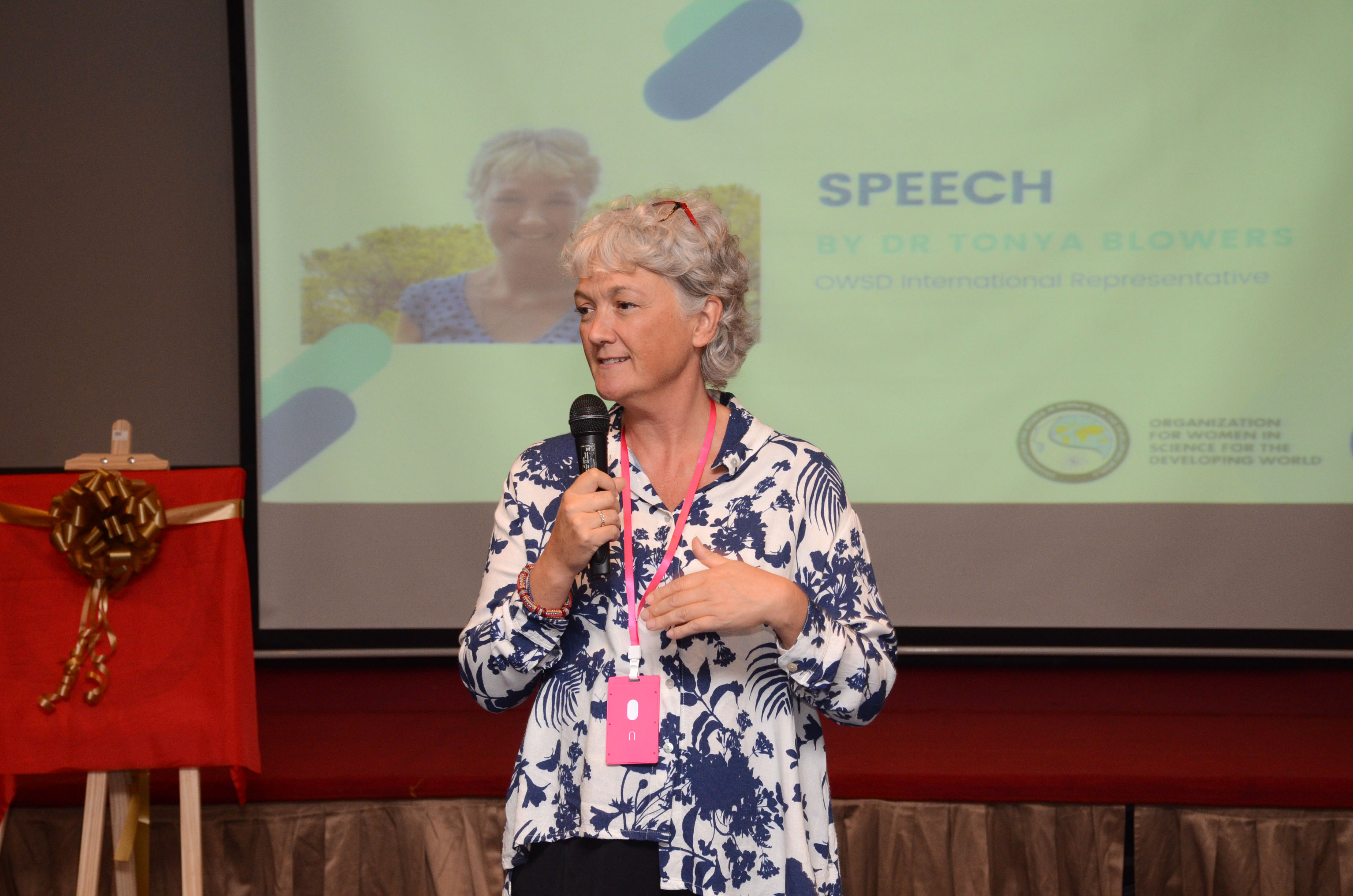 Dr Tonya delivering her speech
Dr Tonya remarked, "It is fantastic to be here and a great privilege to see all of you and well done for organising this event. It requires a lot of administrations and applications to get to this stage. OWSD is 26 years old this year, and we organise forums for women scientists globally to network with each other. The membership provides a place where you are able to share the specific challenges you've faced as well as the best practices with each other. Aside from that, OWSD also provides research training and career development for women scientists throughout the developing world at different stages in their careers."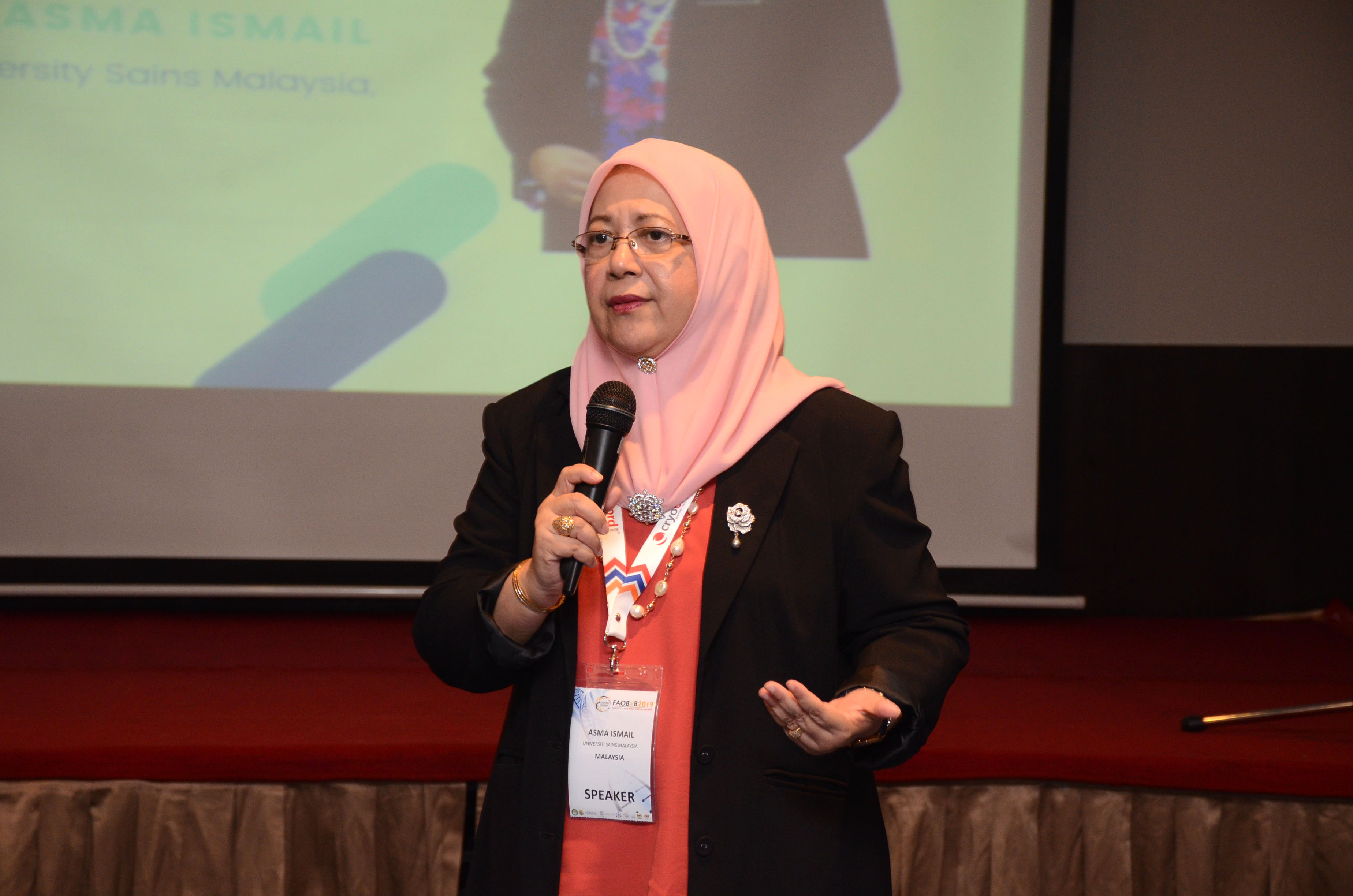 Prof Datuk Asma speaking about the importance of networking
Prof Datuk Asma in her speech said, "This is a place where women from various countries gather to network with each other and get to know the specific challenges faced by different women in different countries. But at the end of the day, we still share some commonalities and we shall work together to overcome these challenges. There are challenges in science as well as in research and development and we need to do something different to explore researches that could help people with low resources."
OWSD is an international non-profit organisation based at the offices of The World Academy of Sciences (TWAS), in Trieste, Italy, a programme unit of UNESCO. OWSD was founded in 1987 and is the first international forum to unite eminent women scientists from the developing and developed worlds with the objective of strengthening their role in the development process and promoting their representation in scientific and technological leadership. OWSD provides research training, career development and networking opportunities for women scientists throughout the developing world at different stages in their careers.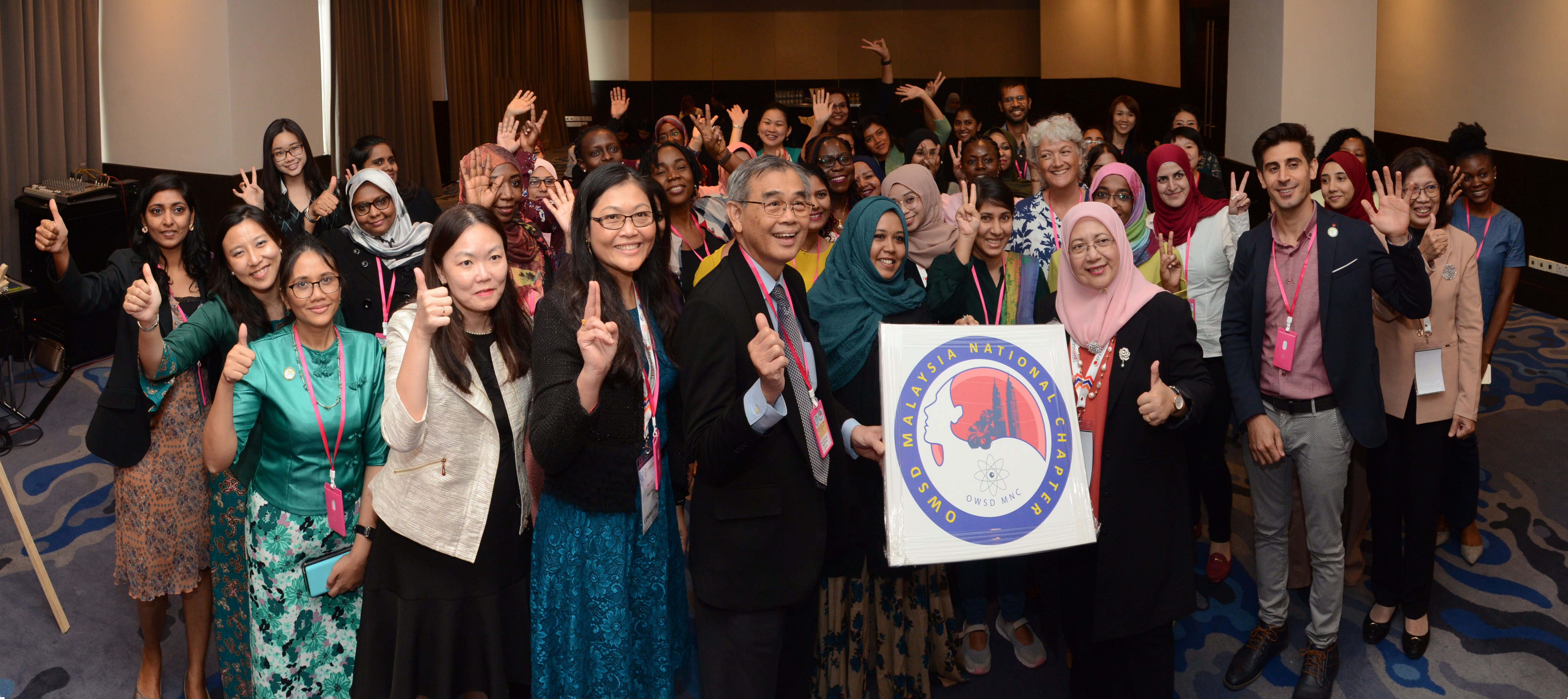 Front row: Prof Lim (second from left), Prof Cheong (third from left) and Prof Datuk Asma (most right) with participants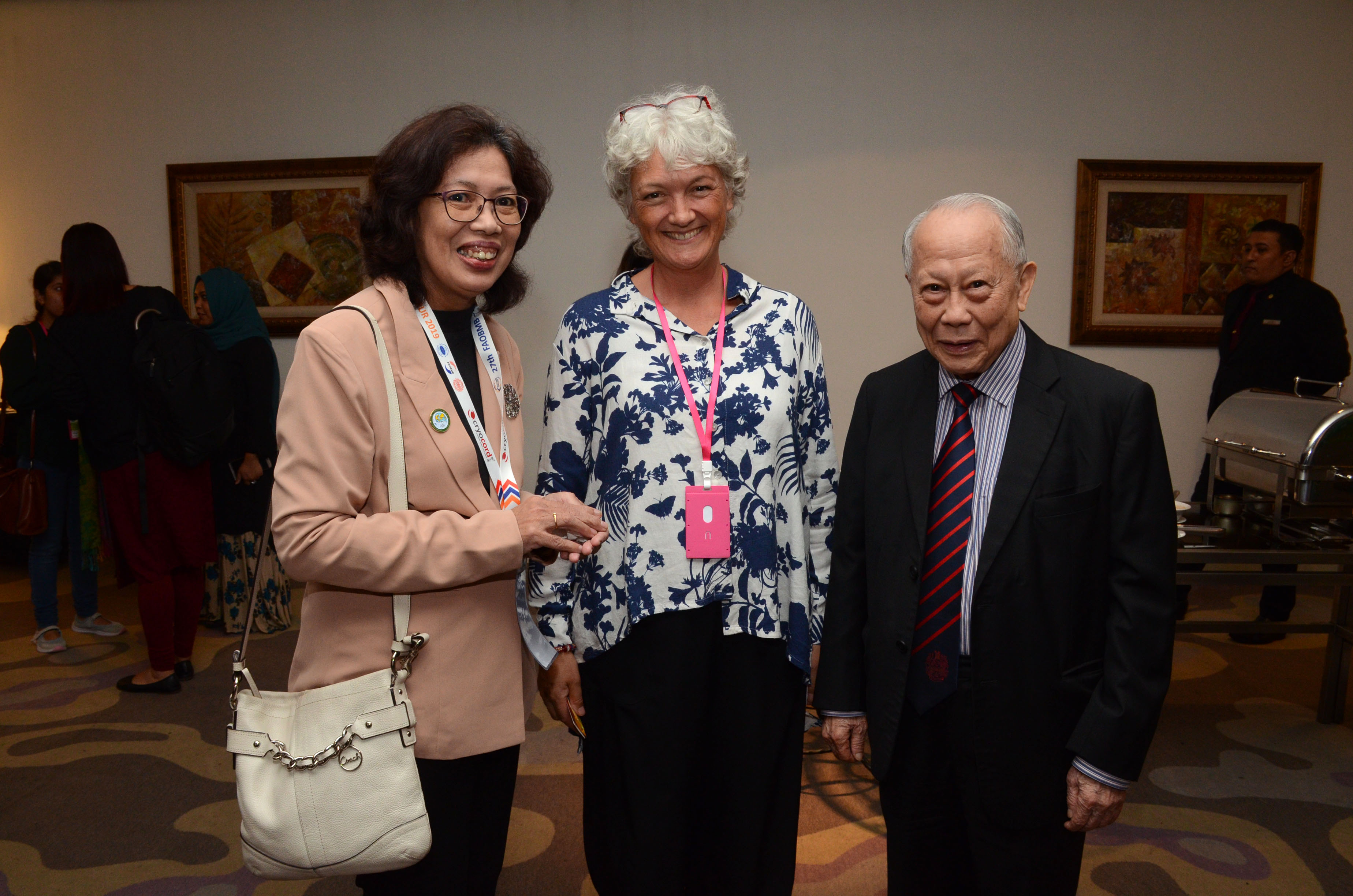 From left: Prof Dr Rofina, Dr Tonya and Tan Sri Dr Augustine Ong Soon Hock during the networking session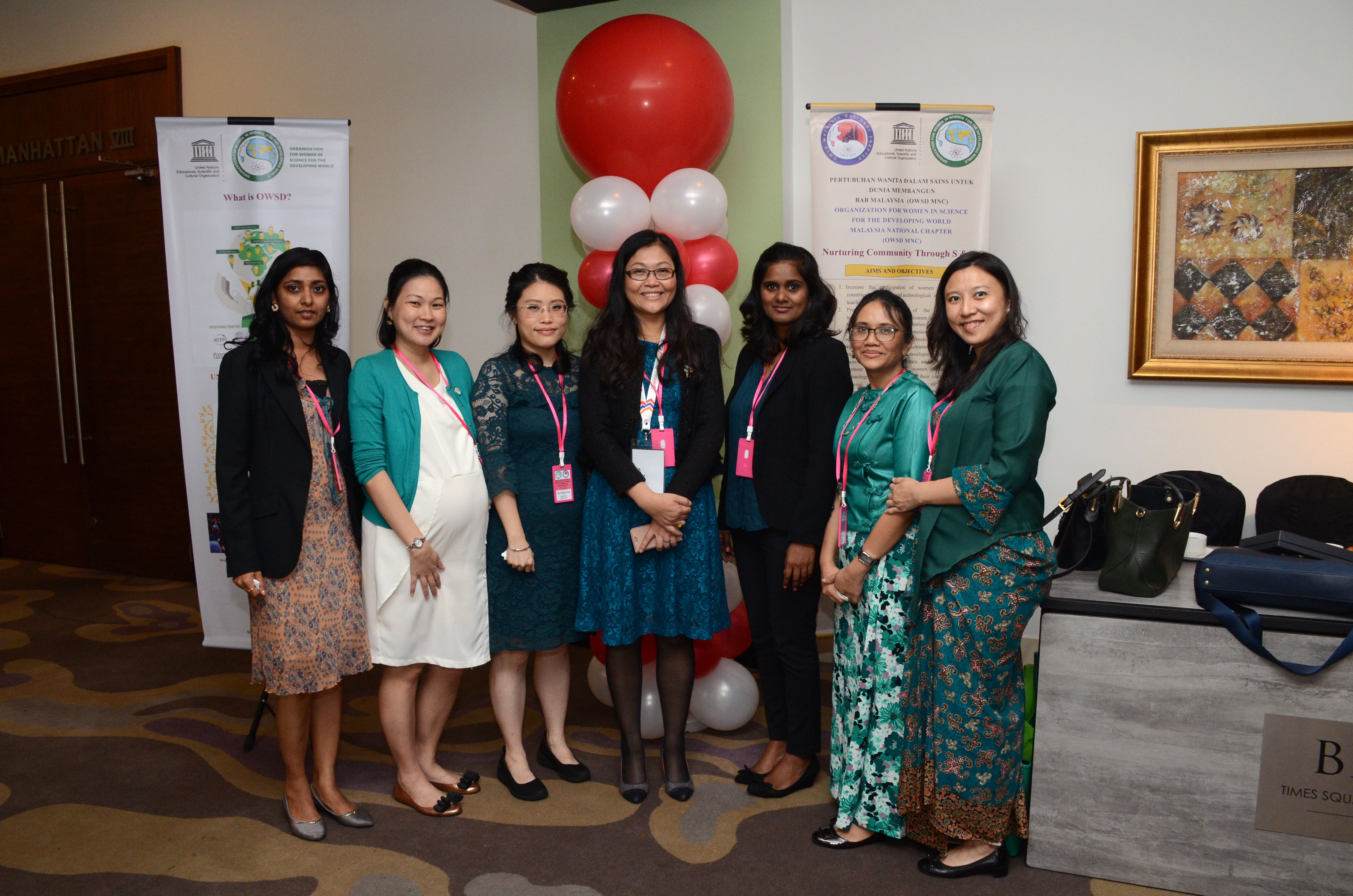 OWSD organising committee with Prof Lim (middle)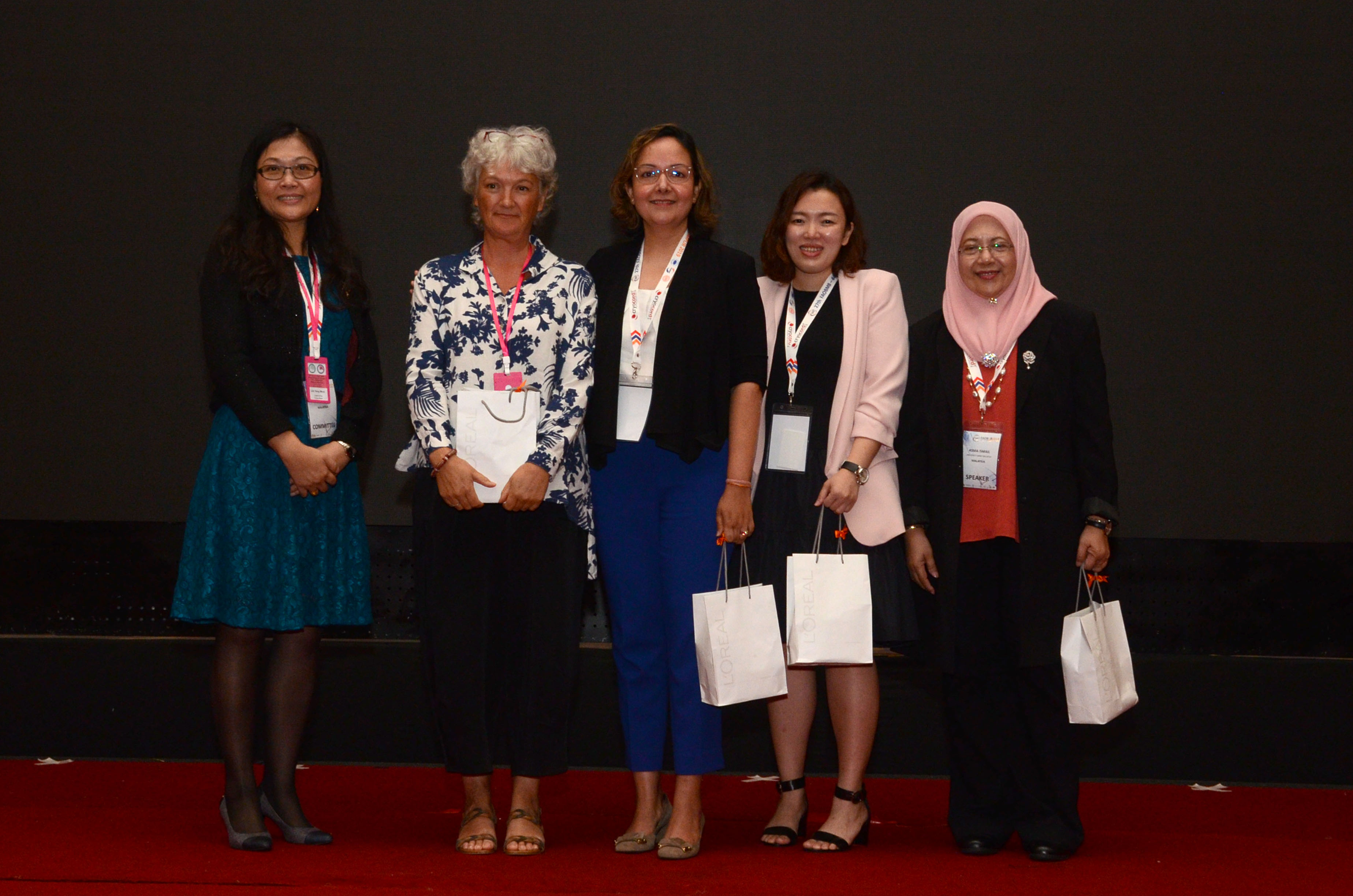 From left: Prof Lim, Dr Tonya, Dr Sumita, Dr Ho and Prof Datuk Asma after the panel discussion
Apart from that, forums and workshops were also held from 20 August to 24 August 2019 for the participants. A forum titled "Women in Science" was held prior to the launching ceremony of OWSD MNC. The forum saw Prof Datuk Asma, University of Nottingham Malaysia Dr Ho Weang-Kee and Managing Director Global Reference Solutions, Elsevier Sumita Singh as the speakers. It was chaired by Prof Lim.
Prof Datuk Asma in her talk titled "Empower Women in Leadership" said, "Leadership should be gender-neutral. It is about the character, attribute and personality. Studies have shown that leaders are 30% genetic but the rest is to develop leadership skills. To be a leader, you must have courage and commitment as well as the skills and experience. Leaders learn by doing, through experience and not by words alone. Experiential learning is important. It is part and parcel of the curriculum in higher learning institutions so that students can pick up skills as they develop as the future nation builders." She also spoke about women as leaders, the concept of leadership, dealing with society's perceptions on women, the qualities of women and how to empower women to become leaders.
The session was followed by Dr Ho's talk titled "Chance and Choice" where she spoke about her life experience and provided career advice. She said, "It is by chance and by choice that we are at what we are today because there is a series of decisions to be made. It is important to work with purpose and meaning; let's love what we do and turn your job into passion"
Dr Sumita presented her talk titled "Analysis of Research Performance through a Gender Lens". She said, "I would like to share with you the business perspective and why diversity in research matters. Diversity comes in many types but we focus on the diversity of gender. The proportion and number of researchers by females are increasing but it is still unrepresented. Researchers need to think about the societal impact before publishing. You need to be proactive in networking and seize the opportunity as it comes."

Participants sharing their feedback at the event

Participants from various countries gathered to meet the industry experts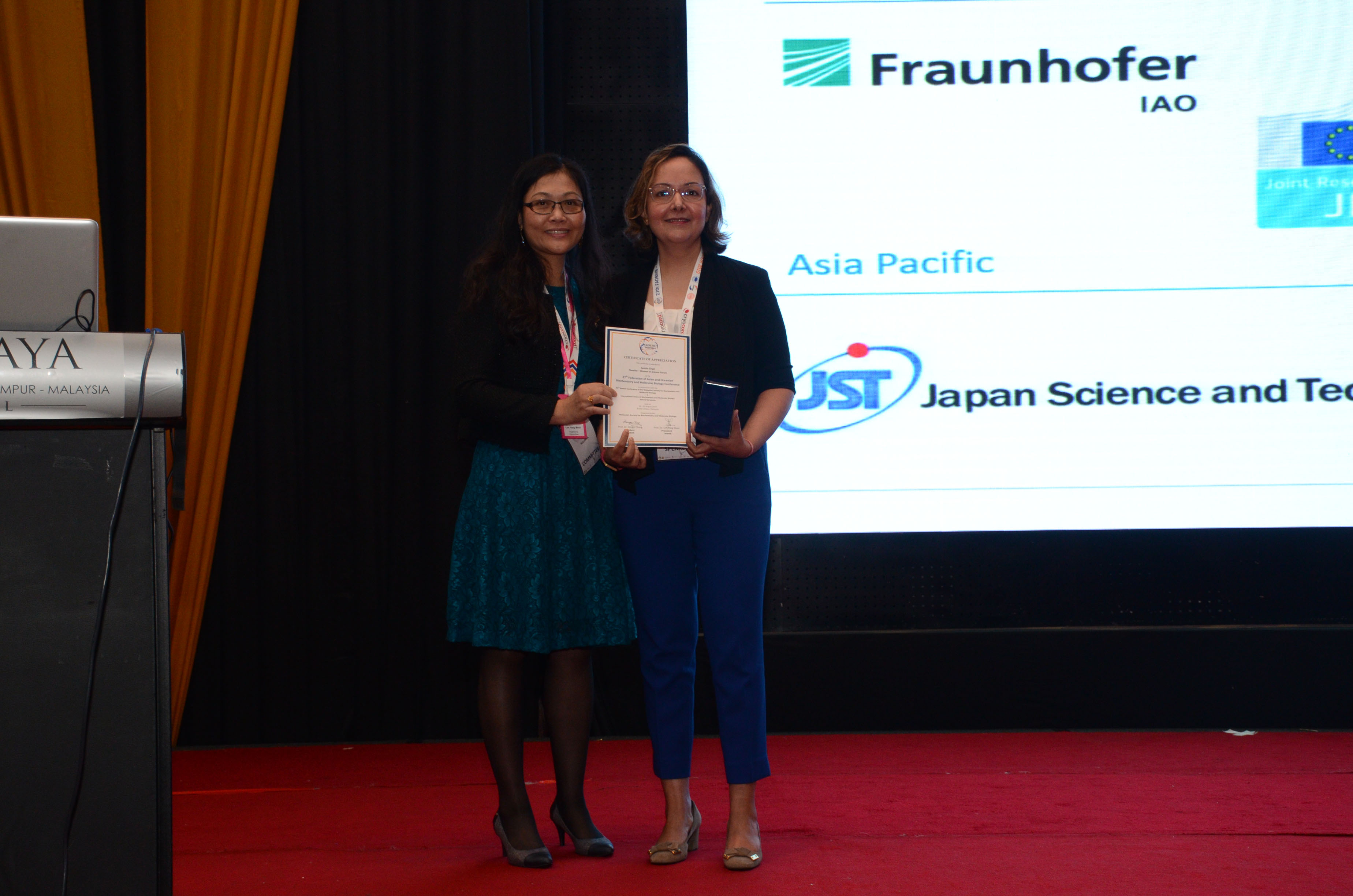 Clockwise, from left: Prof Lim presenting the token of appreciation to Prof Datuk Asma, Dr Ho and Dr Sumita